Bonnie is the queen of scrappy quilts. I now look forward to her annual mystery because I now I can make a (small) dent in my scrap bins and end up with something stunning.
I seem to use a lot of blues, teals, and purples, so this year I veered from Bonnie's color way.
Because it was a mystery quilt, I had no idea what the finished project would look like. I also had no idea to whom I would gift the quilt. As the weeks went along, I started thinking about my son's teacher. At D's school, teachers move up with the class, so Mrs. Ringeis was completing her second year with with D. I remembered how she met him when he was brand new to the school in preschool and joined an after school Lego job that she oversaw. The very first time I picked him up, she pulled me aside and said, "You know he's gifted, right?"
I don't talk too much about D's giftedness, in large part because Mrs. Ringeis was the catalyst for us getting him tested and finding resources to support his quirks and asynchronous development. She took him under his wing before she was his teacher, and since becoming his primary teacher he has matured and bloomed. She "gets" him and he adores her.
We have joked that whenever I make a quilt for someone at school, they leave. Fortunately, the trend has changed since I gave his principal her quilt:
With only one more year left with this amazing school, I knew I needed to start working on quilts for all the incredible people who have been such a huge part of D's life so far. So Ringo Lake became Ringeis Lake.
After the quilt was finished and D had slept with it--the final and most important step to "seal in the love"--I emailed the school to get permission to come by to deliver it.
When she saw D with the bag, she looked at me and said, "No, no, no! I have one more year!" I assured her we weren't going anywhere!
This is one of my favorite quilts for one of my favorite people. And I love that D helped with the label.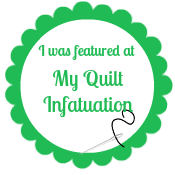 Print this post