This is my current pantry:
I love my label maker.
I bought all the
green containers at Target
. They are called Sterilite clipboxes. They come in different sizes, but mostly I used the
medium ones
. I bought the white baskets at the dollar store. While not perfect, there are several reasons this system works for us.
We can see exactly how much have of our staple items we have at any moment, which makes adding to our shopping list very simple.
Stackable containers makes it very easy to store items so they can be found easily.
We lessen the sway of marketing because our son does not see brands and logos.
Once my son started on solids, I got serious about cooking from scratch. As I've become more comfortable in the kitchen, the more we've been able to reduce the number of processed items we eat. Now, we eat 95% of meals at home, and I make them myself. This means my kitchen wishlist is growing.
When Niels and I started talking about building a home, my first priority was the kitchen and pantry. We've talked about the kitchen--and I'm sure we'll talk more!--and now it's time to explain the pantry. I knew I wanted a large, walk-in pantry, and because we wanted to have to stack two large spaces that could be used for a future elevator. if needed, we found room for my dream pantry, and I started browsing the web for inspiration.
In addition to
Houzz.com
, I found a little gem of site called, aptly,
The Perfect Pantry
. Among other things, the blogger has a every-other-week feature called "
Other People's Pantries
," where readers send in pictures and descriptions of their own pantries. An older version of my pantry was featured as
OPP #134
. The site is just a fantastic way to get ideas of how to organize your pantry, big or small.
In fact,
OPP #7
is the pantry I kept coming back to as the inspiration for my new pantry. Take a look at this amazing pantry:
I love all the space (of course!), but I really fell in love with the idea of an appliance counter. Perfect for housing all the gadgets not used daily--toaster, coffee makers, food processor, etc.--so they are off the kitchen counter. It also creates a place to put grocery bags while putting items away each week. The upper cabinets are not as important to me, as I am only 5'4". The lower space is definitely more important to me.
The second round of inspiration came from the one, which I believe is made of Ikea Billy shelves with the backs painted.
What caught my eye about this idea is that I have three unstained solid wood bookcases that we no longer use. They are 12" deep with is PERFECT for all my green staple containers. I think the paint is really fun, although as much as I love purple, I think it will be too dark for my enclosed pantry, so maybe I would reverse the colors, or go lighter, like this:
All of this leads us to where we are today, with my beautiful 9'x9'10" pantry all framed in and waiting for innards:
a little perspective. lots of room to store goodies for the neighborhood kids!
We know that we will be upgrading to a standing freezer (anyone want to buy our chest freezer?), which will make it easier to store extra staples as well as the portion of cow we're planning to buy from a local farm.
The bookshelves will fill up one wall, and the freezer will be placed on part of a second wall. A third wall will be the appliance shelf. Our original plan was to have our carpenter make the counter for us with some laminate. I love the idea of butcher block, and we considered it for the pantry and kitchen island(s), but the cost made us cut it out of the budget. But then, I found this little beauty at Ikea: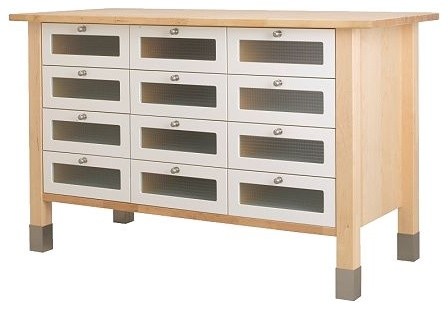 Updated 08.16.13: Sadly, the Ikea Varde Counter Storage Unit has been discontinued.
I love the butcher block. I LOVE all the drawers. I love the natural wood that goes with my natural book shelves. I love the steel accents. I really love it.
There are several pieces in the Varde kitchen collection, so we can play around with sizes to figure out what fits. You can also buy just the
butcher block
, in a variety of sizes.
Pretty birch butcher block.
I also found a few items that were not part of the Varde collection, but could easily work well:
Ikea Stenstorp Kitchen Cart. Not sure if I'd keep it white or paint it. Depends on what I did with the shelves.
We'll be meeting with the carpenter in a few weeks to talk about the final design, but I've very happy to know that we have a lot of components to play around with to get started. The beauty of Ikea is that all these pieces are not assembled when you bring them home, so if it's easy/more cost-effective for the carpenter to use these items to make a unit that works and fits in my pantry, then we'll be done that much sooner.
A fun splurge idea I found at Ikea was this pendant for only $29. I'm not sure if it'll provide enough light, but it sure is pretty!
I've been having a lot of fun on Pinterest.com looking for ideas. Two keepers are this DIY can rack made with upside down wire closet racks.
French wire convertible baskets as sold by Willow House. Updated: the baskets are no longer available. Source photo from The Homestead Revival.
Lastly, a door. I like the look of a frosted door, like one of these two options, depending on whether or not we go for a full door or double door (the doorway is 36" for universal design).
Whichever way I go, I'd love to put something like this on the door:
***updated February 28, 2012***
We are now moved in! My new pantry isn't totally done yet, but here's a
first peek
at how it looks one week post-move in.
***updated November 19, 2012***
Our new pantry is organized.
Wanna see
?
Print this post