One of my goals for this year is to go back and write blog post for all of the quilts that I've made, but not yet shared. I started quilting in 2013, and have made virtual trunk shows all of the quilts I've made in
2013
,
2014
,
2017
, and
2018
. (You can find a list of all 122 of my quilts, posted or not,
here
). I'm in the home stretch, with only 12 posts to go.
Today I'm sharing the quilt I made for our guest room. When we built the de Jong Dream House, we knew that we would always have our door open for guests. We have a second master on the first floor with access to the back patio, a walk in closet, and accessible bathroom.
Hang Time
, and it's a free pattern from Camelot Fabrics.
The pattern is designed to be 75" x 75". I added two rows of blocks to the length and one row of blocks to the width to make a generous king size top.
For the back, I pieced some long strips to go with the focus fabric.
Gezellig
is a Dutch word that roughly translates to cozy, but encompasses not only mood, but relationships as well.
This quilt and our guest room is on my mind now, in 2019, because in a few short weeks, my mom is moving in!!
her
room. We moved in a smaller bed to make room for a recliner.
But it won't be all work for Mom. She working on her bucket list, too. The idea is that she will use our house as her home base, and without the expenses of rent and utilities, she will have more money to travel and visit friends and family. And she will be able to go to Europe with us this summer to celebrate my in-laws 50th anniversary! I'm very excited for all the adventures she will get to have now. And we are excited to have a puppy in our home again. And mom too, when she's resting between her coddiwomples.
As for the quilt, it has been moved downstairs with the king size bed to our other guest area. And now I have another quilt to make for mom!
One of my goals this year is to finish writing posts for each of my quilts. This quilt was finished in 2015. You can see what I'm currently working on by following me on Instagram at
deJongDreamHouse.
Linked to:
Thursday
Needle & Thread Thursday @ My Quilt Infatuation
Friday
Beauties Pageant @ From Bolt to Beauty
Finished Or Not Friday @ Busy Hands Quilts
Off the Wall Friday @ Nina Marie
Whoop Whoop Friday @ Confessions of a Fabric Addict
Saturday
Show Off Saturday @ Sew Can She
UFO Busting @ The Madd Hatter
Sunday
BOMs Away @ What a Hoot
Oh Scrap! @ Quilting is More Fun that Housework
Monday
Design Wall Monday @ Small Quilts & Doll Quilts
Monday Making @ Love Laugh Quilt
Moving It Forward @ Em's Scrap Bag
What I Made Monday @ Pretty Piney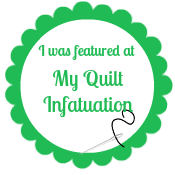 Print this post