I've been scouring Pinterest for ideas for storing my thread and bobbins. What I really wanted was a way to store thread with matching bobbins that I could easily grab as needed.
I scored this baby for $5, so I picked up two so I have one when I'm ready to expand. I loved the compartments and thought it would work perfectly.
Black would have been fine, except I was using white in my craft room, so I made a quick change with spray paint.
The frame came with a reversible back with black and white. I knew I wanted white, but I loved this glittery scrapbook paper.
I taped two 8-1/2" x 11" pieces together and it fit my frame perfectly.
I can fit two spools in each compartment, with room for bobbins on top. Perfect!
I'm really starting to love these UGlu dashes that I picked up at Joann. They stick to anything! Although, I think I will opt for the dots next time.
Dots would have worked a little better, but these magnets aren't going anywhere!
I turned the rack on its side to make sure the magnets were lined up and placed high enough so there was plenty of room for the spools.
And it's ready to hang!
I set the level on top to make sure the holder was straight, then pushed it against the wall until I heard all the Command Strips click.
The holder is hung to the right of my sewing table.
I learned a neat trick for keeping bobbins in order.
I clipped a few extra and put them in a little box so it's handy the next time I wind a bobbin.
I really like how this holder creates a colorful, but practical display. The only flaw in my plan is that, as a new sewists, I have a pretty steep learning curve ahead of me. And while looking for some new bobbins to fill up my pretty new display, I learned that my particular machine prefers plastic bobbins. Non-magnetic bobbins, that is. Oops. Good thing I have another case to transform into a plastic bobbin-friendly holder, complete with nails instead of magnets. Live and learn.
Create Craft Love
*
Crystal & Co
*
Diana Rambles
*
DIY Showoff
*
The Grant Life
*
House of Hepworths
*
Just Us Four
*
Life After Laundry
*
Little Miss Celebration
*
New Nostalgia
*
Not Just a Housewife
*
Practically Functional
*
Sew Much Crafting
*
And Sew We Craft
*
Sparkles & a Stove
*
Threading My Way
*
Val's Quilting Studio
*
Will Cook for Smiles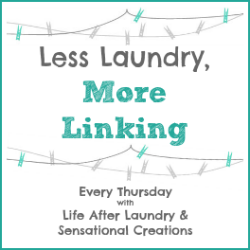 Print this post